TOP Things To Sell At School To Make Money in 2022
Are you curious to become a school entrepreneur? Let us explore TOP 80 things to sell at school and the factors to consider before starting selling at school.
According to the school and the state in which it is located, students prefer to buy slightly different items. The most popular things also differ between young students and older students from high schools.
Factors That Determine What To Sell At School
Several factors determine what to sell in 2022, the most vital ones are:
Type of School
The type of school determines the type of product.
Things that are in high demand at schools might not be in demand at a higher educational level like colleges and universities.
Thus, knowing the type of school is crucial to making a correct decision.
Interest
Would you like to sell products or services?
Your product type will be determined by what you know how to market best. This is all about your interest. If you like to sell services we'll recommend you to sell services.
Similarly, if you're the type that sells products well, rendering paid services may not be the best choice for you.
Cost
You should also consider the cost and affordability of your potential audience (which is primarily students) when choosing products to sell at school.
Schedule/Time
As a student, make sure you're offering a product or service that won't interfere with your academic schedule and responsibilities.
Also Read: 10 Best Study Habits
What To Sell At School in 2022
The following are the items that sell best at every school. They are proved to be popular in many of the schools. So, in your school, many people will want to buy them.
An important part of selling at school is an understanding of children's needs as well as being an open person with whom others can easily communicate.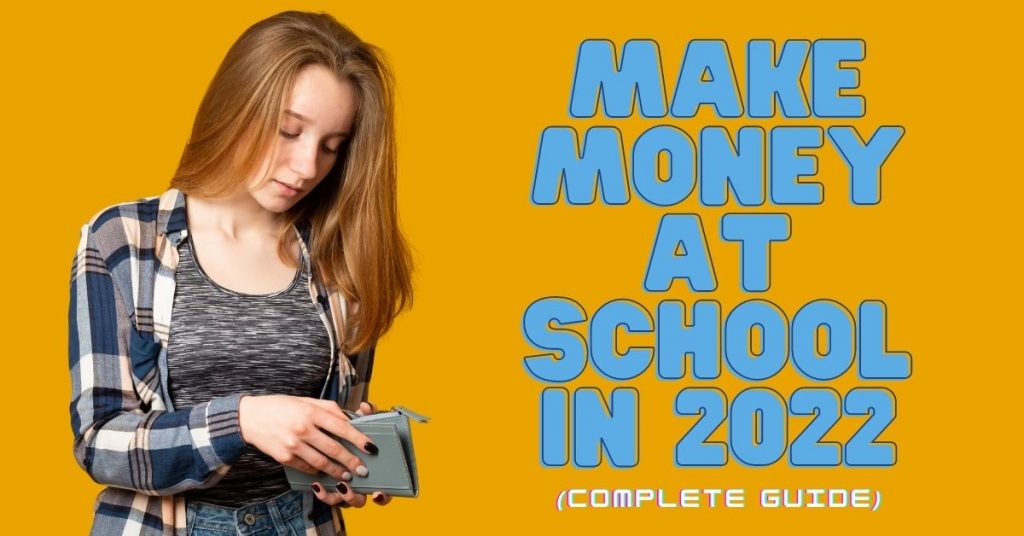 Things To Sell At School (NOT FOOD)
There should be the greatest interest in these products. However, you must make sure they sell well at your school, not all kids like it, some may like it, while others may not.
Students need food at school, but there are many other things to sell at school. So, let us first talk about things to sell at school not food. This list of items has been divided into three categories: Unique, Cool, and Easy. These are the most profitable products that will earn the most money.
Unique Things To Sell At School
Here are some of the most unique things you can sell to make money at school. Our list of unique things to sell at school includes the best-selling and most profitable items.
These are some unique items to sell in school to make money. Your ability to convince your market (in this case students) will allow you to sell more products and services. A positive nature will also help.
#1. Sell Netflix accounts – Just buy a Netflix account and sell it to three people. You can even have multiple accounts to sell. Make sure you charge the right markup for each account. The students will still benefit.
#2. Tutoring – It is also one of the best ways to earn money teaching lower-class students. You can give them home classes as well.
#3. Test/Exam Prep – Teaching lower/primary class students or maybe your class fellows for tests or examinations. As these are occasional so there are chances to generate a good amount within a few days only.
#4. Homework Service – Providing Homework writing services to all the students.
#5. Study Notes – Creating notes for students in free time and Selling them at a good price in school.
#6. Vintage Photos
#7. Phone Charging
#8. Shoe Cleaning
#9. Streaming Accounts
#10. Photo Printing
#11. Fix Cracked Smartphone Screens
#12. Taxi Service
#13. Decorative phone cases
Cool Things To Sell At School in 2022
Cool items are always in demand among students at the school level. Therefore, these items will surely help you make money for profit.
The Good thing is that all teens are highly interested in these kinds of stuff. So, there are high chances of making money in this as well.
#14. Custom Stickers – Almost all students fall in love with stickers, and they love to use stickers to express themselves. Doing a sticker business with students will always bring you a great profit. Check Customsticker for the merchandise.
#15. Video Games – Just download video games and sell them. You can use a USB and copy it to the USB of other students.
#16. Printing and selling T-shirts with slogans and quotes is one of the coolest ways to make money at school.
#17. Customized hoodies – Likewise, customized hoodies can be sold for a reasonable price.
#18. Sneakers – Teen students are highly interested in buying sneakers to play football and cricket.
#19. Sports accessories like bats, balls, and helmets – In the same way, other sports accessories can also be sold at a good price.
#20. Leggings
#21. Windpants for track and other sports
#22. Pants
#23. Bracelets
#24. Necklaces
#25. Anklets
#26. Sunglasses
#27. Perfumes and deodorants
#28. Headphones
#29. Small bags with a complete set of supplies
#30. Laptop stickers
#31. Phone stickers
#32. Bumper stickers
#33. Locker magnets
#34. Locker organizers
#35. Concert tickets
#36. Flip flops
#37. Skateboards with customized designs
#38. Trading cards
#39. Sell screen protectors
#40. Phone pop sockets
#41. Stress balls
Also Read: Get Paid to go to School
Easy Things To Sell At School
There are lots of students who don't have much time to research which products to sell as they are just too much busy doing their homework or other routine tasks. They feel like it is not possible for them to make money at school because of their schedule. But it is not that difficult. We have gathered some easy stuff to sell at school that they can easily buy from any market or shop at less price and then sell at school.
#42. Old book – Selling your old books to the students who cannot purchase new books.
Similarly, you can also sell other stationery items. That's one of the easiest ways to make money at school.
#43. Pens
#44. Pencils
#45. Erasers
#46. Sharpeners
#47. Glue
#48. Stapler with stapling pins
#49. Scissors
#50. Paper clips
#51. Rubber bands
#52. Protractors and rulers
#53. Highlighters
#54. Note pads
#55. Sticky notes
#56. Folders
#57. Notebooks
#58. Colored pencils
#59. Markers
#60. Shoelaces
Top Food Items To Sell At School
Selling Food items at school is also a good way to make money.
Here is the list of items we recommend you sell at school. This is all based on research work.
#61. Candies
#62. Chocolate bars
#63. Gummies
#64. Gum
#65. Chips
#66. Pretzels
#67. Popcorn
#68. Soda
#69. Ice tea
#70. Lemonade
#71. Energy drinks
#72. Iced coffees
#73. Pizza
#74. Burgers
#75. Sandwich boxes
#76. Waffles
#77. Ice cream
#78. Popsicles
#79. Cup Noodles
#80. Fruit bowls
Final Thoughts On Best Stuff To Sell in 2022
I believe that you're well prepared to start your entrepreneurship journey at your school in 2022. Now you know eighty things to sell and the factors are essential to know before choosing what to sell at school.
We are confident that this article will guide you towards making a great choice whether you are a student looking to earn extra money to supplement your income, or you are among the many other categories of people looking to earn more from selling at school.
Also Read: Make Money eBay
– Disclaimer –
Taking any action that violates school regulations is not encouraged in this article. Get the school's permission before you start selling at school.
Get Premium Content For Free
Just put your email to get exclusive content!