11 Best Tricks to Rank Fiverr Gigs on First Page in 2022
Today we'll tell you some tips and tricks on how to rank Fiverr gigs and become a top seller.
Fiverr is a marketplace where sellers make from $0 to six figures of yearly income. It is such a platform that changes lives and makes one from zero to a hero.
Most people think it's a joke because services start on Fiverr from $5 only. But believe me, there are tons of people who have a full-time career on Fiverr.
They're Millionaires. If you want to work on it as a full-time career you need to get ranked on Fiverr search's first page. Once you get ranked you can get orders daily. But it's not that easy…
But don't worry we'll explain that as well, but first, we can take a look at some motivations.
Wondering, how can one become a millionaire on a platform where services are getting sold for $5?
The answer is pretty simple, that sellers not only provide services for $5 but for $5000 as well. 🤭🤭
Understanding, how Fiverr Ranks Gig?
Fiverr ranks gigs on the first page according to the no. of reviews on the seller profile and things like gig title, tag, and description. These things must be taken into notice for the gig ranking but to increase the click-through rate sellers also need to have an attractive gig image.
If you have a seller profile on Fiverr, and you're not getting orders on Fiverr, it simply means your gig is not having the right title, tags, description, and image/video. Maybe they are just poor and outdated. So you need to update them.
Most of the Fiverr gigs are just written so poorly that buyers don't even care and leave the gig page after a second. But don't worry we're going to solve all of your problems here.
Following are the tips and tricks that you can do if you want to rank your gig on Fiverr.
Basic Tips to Rank Fiverr Gigs
Get Your First Order
Most people recommend buying fake reviews as it can provide a good impression to the buyers. But I recommend you to not do this because it's against Fiverr's terms and conditions and your profile can be suspended.
I recommend you share and promote your Fiverr profile with your friends on social media.
You can also give them a discounted price. I know you cannot give them a discount directly, but you can create a custom offer by minimizing the price.
Even if no one gives you an order from social media you can send 10 buyer requests daily and get an order within a few days or weeks. If you're doing things correctly.
Do ON-Page SEO for better results
On-page SEO includes the utilization of your keyword in your gig description.
What is a Keyword?
A keyword is a word(s) that you're targeting in your gig title. Keywords can be multiple.
For example, if your gig title is "I will create a Responsive WordPress Website Design for you" then your keywords are "WordPress", "WordPress Website", "WordPress Website Design", and "Responsive WordPress Website Design".
Note: Keyword should be a good one. The one that people can search while finding for a service.
A Good Keyword for Your Gig:
A Good Keyword is a keyword that has less competition and more searches.
So, to do the best SEO of your gig you need all versions of your keyword in your description. All versions include "WordPress", "WordPress Website", "WordPress Website Design", and "Responsive WordPress Website Design". You can maybe use them a few times (1 or 2).
That's how you can do optimization of your gig description.
We have also written a complete blog post on some tips & tricks to 'Write Best Fiverr Gig Description'. You can review that as well for more help.
Add the best tags to the Gig
While creating the gig you see an option to write the tags once you complete writing the description.
These tags also help you in the ranking.
Note: Tags are the most important thing while creating a gig on Fiverr.
For the best tags, you need to review the tags of the top related gigs having your keyword. Once you finished reviewing them you add the most used tags.
Moreover, you can also see Fiverr's suggestion while searching.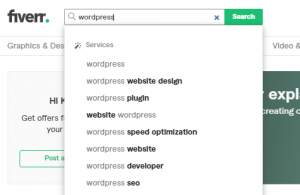 You can see these suggestions in the tags for maximum results.

After searching there are also some suggested keywords you can use for tags as well.
Increase your conversion rate/effective communication skill
If you want to rank on Fiverr you need to have effective communication skills, so you can increase your conversion rate on Fiverr.
Effective communication helps in gig ranking because you can convince more buyers to buy your service.
Importance of Conversion rate in Gig ranking:
More orders on a gig with fewer clicks help Fiverr to identify the best and effective sellers.
Use Fiverr App to Rank Fiverr Gigs
Usage of the Fiverr mobile app can also help you in your gig ranking.
This is because you have Fiverr now in your pocket, so you can quickly give responses to your client. This means increasing response time and ultimately more clicks and more orders.
Remember this is one of the most important steps. This is because if you don't have the app you can never respond to the clients on time, which will decrease your response time. And after some time no one will contact you.
Advanced Tips & Tricks Rank Fiverr Gigs
Be Online
Stay online 24/7 if you want to rank your gig on the first page. This is because if you will be online for more time there will be more chances for you to get new orders.
Most of the buyers on Fiverr want their work to be done as early as possible, so they want to filter out the sellers while searching.
For this purpose, Fiverr has an option for the buyer that helps them filter and select only online sellers. So, if you will stay online 24/7 you can get more orders and ultimately more rankings.
Sell More, For less
Sell More, For less. This doesn't mean to sell your services at cheap prices. You need to have reasonable prices.
Don't let go of small fixes and projects. If you are working on a lengthy project don't avoid small projects.
You should also work on them as you get more orders. You'll get more rankings.
Multiple Orders and Returning buyers
As explained, the main thing is that you need more orders on Fiverr if you want to get ranked more. So we also recommend you to complete your work in two halves.
In this way, you will get two orders from the same buyer.
As you have more returning buyers, Fiverr can trust you more and can push your gig rankings.
Bonus Tips to Rank Fiverr Gigs
Avoid Cancellations (Pro Tips)
Cancellation has always a bad impression on the gig ranking. So we always recommend you to work on only those projects that you can complete with surety.
If a buyer places a direct order on your gig that you cannot fulfill, cancel it with mutual agreement.
But after that, you should write in your gig that you don't do this type of work.
Here's a YouTube video for you to on how to avoid cancellations due to Fiverr Support.
While creating a gig, you should also notice these things.
For this purpose, we have already written a blog on how to create a gig. You can also check that this will help you on how to create a gig. This will also help you to avoid cancellation.
Use Optimized Gig Title and URL
Your Fiverr gig title and URL (permalink) must be the same.
There are a lot of sellers on Fiverr who change their gig title. This only changes your gig title but not the gig URL. It has a bad result, and it made you lose your gig ranking.
So, never change your gig title.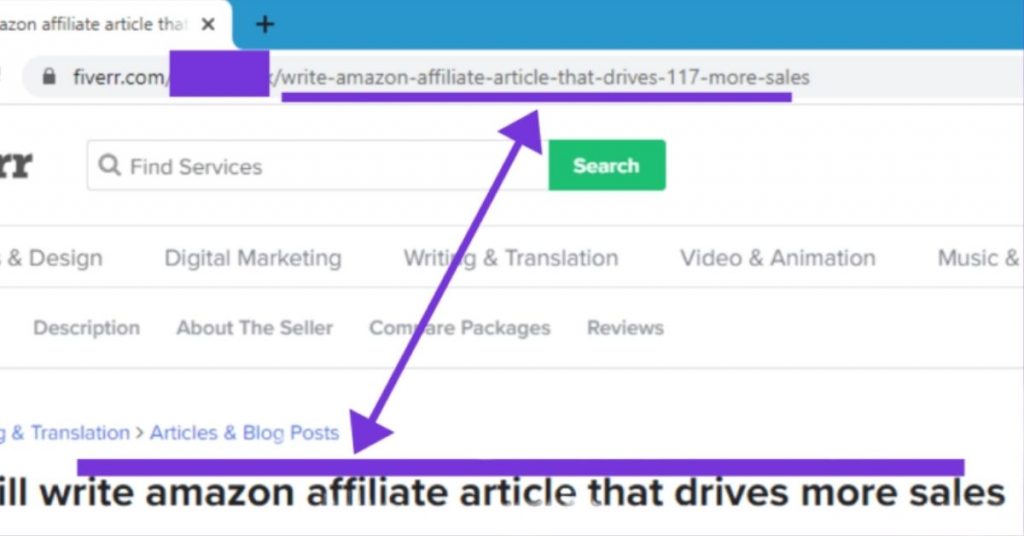 Read Fiverr Terms and Conditions
We recommend you to read the whole Fiverr terms and conditions thoroughly for once. This helps you solve 90% of the problems.
This will also help you understand how Fiverr works.
There are a lot of sellers who don't read it and their accounts suspend due to any type of violation.
If you like our blog post don't forget to join our newsletter.
Get Premium Content For Free
Just put your email to get exclusive content!