7 Best Freelance Websites For Beginners 2022
Freelance websites are best for those looking for additional ways to make money online or for those who are just beginners in their skills and want to expand their expertise and skills.
A freelance career is a great way to turn your talent or passion into money. You can apply for only the projects you like or excel at.
We are all aware that the technological revolution has affected businesses around the globe. Millions of people are savoring the benefits of freelancing and online earning.
If you are a beginner or expert, there are tons of freelance platforms to find work. On these platforms, you can find jobs almost in any field.
Which is the best freelance website for beginners?
The best freelance website for beginners in 2022, in our opinion, is Fiverr because it's an online marketplace where people around the globe their services. Different types of professionals like Graphic designers, copywriters, and programmers, use Fiverr to market their services worldwide.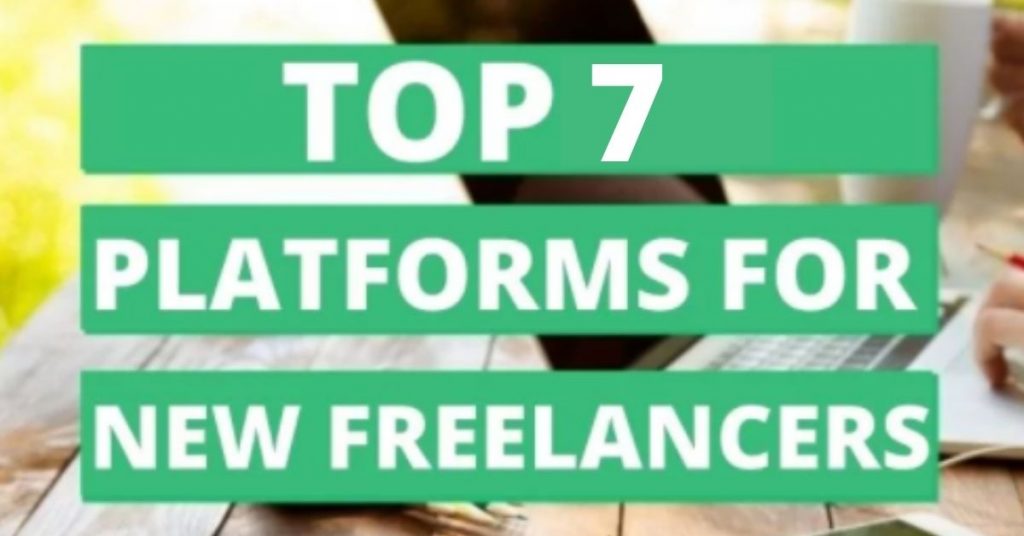 Why people use Freelance Websites to offer services?
People use freelance platforms because it gives them, an advantage in getting hired while ensuring that all payments due are accurate, transparent, and on schedule. These platforms also offer a safe way for freelancers to find good, reliable, and secure jobs online.
These freelance websites make you independent of the 9 to 5 job. You can work in your own way as you like to do so.
Let's explore the best freelance platforms that can be game-changer for you. You can read it thoroughly to decide what's best for you.
Top freelance websites in 2022.
Fiverr, the Best Freelance website for Beginners.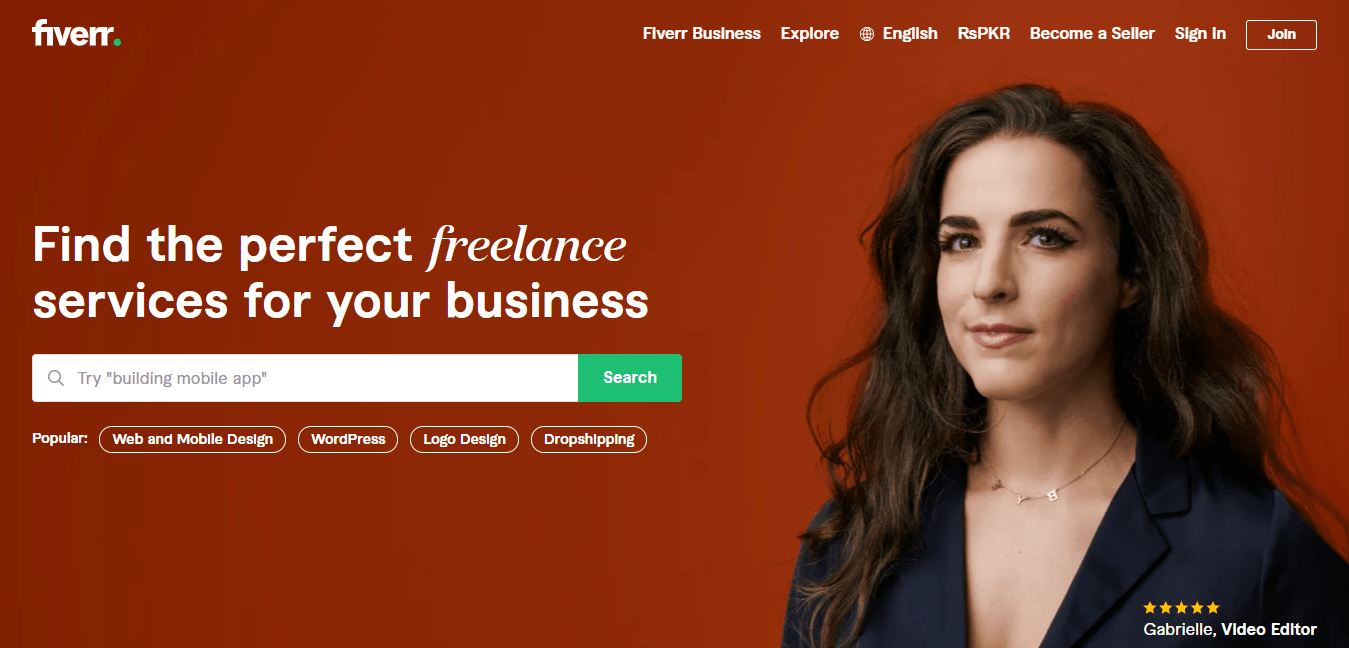 The best freelance website we recommend you start with is Fiverr. It is one of the best-known sites for freelance work, with over 4 Million+ services active.
You can offer services as low as $5 and as high as $5000.
More complex services and charging for the extras during orders make it possible to become a full-time freelance living on this platform.
Fiverr offers a wide variety of categories in which you can make money online. You can provide any service to sell, like your diet plan, social media enhancement, picture drawing, logo design, copywriting and translation, social media promotion, content creation, videos, and much more.
Many users worldwide use this site for tons of different services like graphics design, digital marketing, entertainment, lifestyle, and more. For all of this and much more, Fiverr offers a wide range of services. So if you have an idea for selling your talent, then Fiverr is the perfect choice for it.
Recommended Articles:
1. Fiverr Gigs Ideas – Best Selling Gig Ideas for Fiverr 2022
2. Fiverr Profile Description – Best Samples & Ideas for Sellers
[Explore the Fiverr site]
Upwork, Best Freelance Site for Professionals
Secondly, on our list is also one of the best freelance websites for professionals in 2022. Upwork is also very famous and was formerly known as oDesk. This platform works as a broker between free-lancers and third-party clients.
With Upwork, freelancers can be paid by the hour, by project and sometimes by month, as it depends entirely on the project's nature.
Upwork is the destination for professionals in many fields, such as programming, accounting, etc. Sign up for Upwork to create a free profile and start working. Upwork is one of the best websites and one of the most popular with job seekers.
[Explore the Upwork site]
Freelancer
Freelancer is one of the best freelance websites for beginners in 2022 for graphic designers, web designers etc. The site literally offers millions of projects from clients around the world.
You have to be very aggressive and competitive when you bid for a job at Freelancer.com because you will be competing with applicants from all over. However, it's a great place to start as a freelancer, and it's also a good place for small design firms to land larger clients. We can say that it is among the best freelance websites for beginners in 2022.
[Explore the Freelancer site]
99Designs
99Designs was created especially for designers to launch their freelance careers.
This is another freelance website for beginners. It is for people looking for freelance design jobs, such as fashion stylists, web designers, architects, etc.
Freelancers can compete for clients and showcase their work on the site. It's a great way to learn to find out what clients are looking for in a design. This site is also a great way to create a portfolio you can use for other professional freelance sites.
This may be the place for you. 99designs not only facilitates the interaction between talented freelancers and clients, but it has also developed a feedback portal through which freelance designers can be rated by their clients.
This allows clients to choose the best free-throwers and creates a healthy competitive environment for freelancers. With 99Designs, self-employed workers can receive and send feedback.
[Explore the 99 Design site]
Guru
Guru empowers straightforwardness on their freelance platform and worth trust. Unlike other freelancing websites, Guru.com isn't restricted to freelancers in any means. On Guru, there aren't any membership plans, so it is very affordable.
On guru, clients can hire freelancers in two ways:
1. While Browsing through their profiles.
2. Or by posting a job.
Guru can be an excellent source to go to if you're searching for new freelance plan work. We say that Guru is among the best freelance websites for beginners in 2022.
[Explore the Guru site]
PeoplePerHour
The freelance services market, PeoplePerHour, enables self-employed workers worldwide to find freelance work suited to their qualifications. It optimizes the way salespeople connect with businesses while providing them with various tools necessary for freelance tasks.
It has many features, like proposal display, account management and invoicing. Various pricing plans are available on PeoplePerHour, such as monthly, one-time, and quote-based payments and may be suitable for individual freelancers.
With PeoplePerHour, you don't have to worry about getting paid on time, as the platform gets the payments from the buyers before you start work on a project. It also protects buyers against the possibility that a freelancer may not be able to meet job specifications.
If you are a self-employed person looking to work more comfortably, then PeoplePerHour is the service for you. It allows you to search for buyers in your area while facilitating a better understanding between buyers and sellers.
[Explore the PeoplePerHour site]
Toptal
Toptal pitches themselves as a spot to locate the top 3% of freelance talent. This restrictiveness separates them from other freelance websites out there.
Their screening process is such thorough that out of the thousands of entries they get each month, they acknowledge a couple into their positions.
Due to their screening process, we can say that TopTal can be among the other freelancing website in 2022.
It is getting more famous and can grow even further in 2022 likely.
[Explore the TopTal site]
To build your portfolio, you can offer free or cheap services to your friends. You can also build your portfolio by just practising around the youtube video tutorials. Collect all of your work under one Behance or any other portfolio collection platform.
Also Read: How to Make Money As A Teenager
Get Premium Content For Free
Just put your email to get exclusive content!