How To Extract Text From Image Using Andriod Apps
Here are the top 5 android apps you can use to extract text from an image using your mobile phone. Lets explore the best 5.
For any business, work gadgets, software, and technologies are the foundation. 
The days of doing all work by hand are long gone. Historically, human brains and hands were used to write, edit, and convert files from one format to the other.
But the time has changed now, in today's fast-paced world, computers and tools are used to complete tasks.
The majority of them are free-of-cost and quick, which help you save energy and become more efficient.
Back in the old days, data storage was a so lengthy, complex, and time-consuming process.
For storing and searching a specific file, individuals were needed at that time; enterprises and corporations were required to pay them large sums of money in exchange for this service.
With the change of time, the mindset of people is also shifting from an old-fashioned to a modern approach.
The contemporary approach means the use of online technical tools to complete the tasks. It takes no time through these tools to save your file and to display it on your PC.
The exact thing goes for extracting text from image; in earlier days, people would use their hands to write each word from the image. 
However, there is a technology to facilitate people to extract text from image; we call OCR technology. You only need to issue the command, and your task is completed.
How text from image extractor work?
An text from image extractor can extract text from any image to a text file or document. The Optical Character Recognition (OCR) technique is used for this method. 
OCR is a well-established data entry technique that scans and converts the transcript of an image into a text document.
The image's written text goes through several stages, including identification, digitized scanning, and character coding to reach a text file.
The operation of OCR technology is as follows:
OCR technology can monitor any text, whether written or typed on an image, and then convert it to encoded text.
Users can use this technology to improve their experience if they don't want to type the text by looking at the image.
Doing it manually is not only time taking but also a little frustrating. The text generated through the image-to-text converter can be used for any purpose later, such as an application, etc.
OCR is a highly efficient and error-free technology that you can find online. It works by optically detecting text and converting it to character codes.
Why is it considered amongst the most accurate technologies for this purpose?
It can identify or scan the hazy and unclear text on the image you entered and quickly convert it to text while remaining errorless.
The Significance of OCR:
What would be the essential aspect of a business?
You know that it's high productivity, and OCR assists you in accomplishing this by saving time and effort that you would otherwise spend on data acquisition and records management.
Workers' jobs have been simplified because they no longer have to search for specific files in the document storage area. They can easily save that from any file or image to the computer. It can also help you and any organization save money that would otherwise be spent hiring data recovery personnel. The list of benefits goes on.
The main issue with previous systems or tools was imprecision, but this OCR allows for the correct results, making it fantastic.
Let's discuss five android image text converter apps.
Image to text- by Prepostseo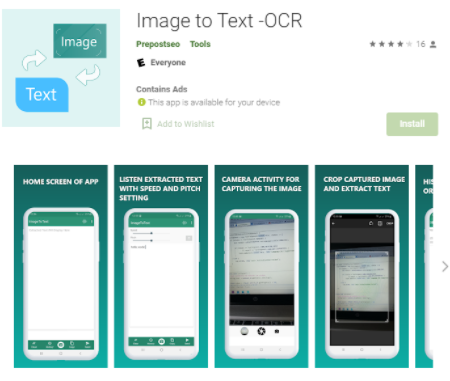 Image to Text Converter is an online tool that extract text from image into an editable text. It is one of the widely used apps for this purpose. This app is completely free to use. After scanning the text, this app converts the text into an editable format. That editable file then can be shared via social media, emails, or WhatsApp with anyone required. There is a Text-to-Speech option available in this app that will speak the resultant text.
Features:
This application provides you 99%+ accurate results. 
It also includes text-to-speech functionality.
Selecting an image from your gallery to upload.
Converting the image by taking a picture with your device's camera.
You have the option of copying the resultant text to your clipboard.
Sending the text directly from your app to another app.
Clearing the box for the next conversion with a single click.
Mobile App: https://play.google.com/store/apps/details?id=com.prepost.imagetotext
Copy Text on Image: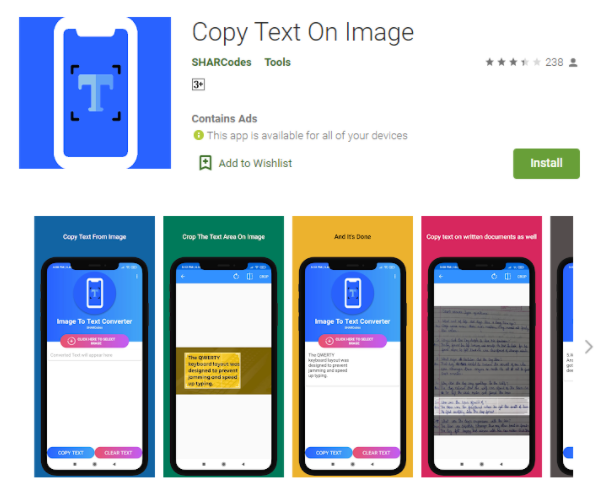 Here we have another excellent app for an image to text conversion.
Features:
It is entirely free to extract text from images.
It allows you to edit, share, or export as a PDF document.
Protects your privacy by working offline.
Its extracts email, phone number, and URL.
Detects printed text in over 110 languages.
Scanning documents that contain text in multiple languages.
Cleans up the image automatically, corrects the viewpoint, and straightens text lines.
Detects text columns in complex documents automatically.
Image to text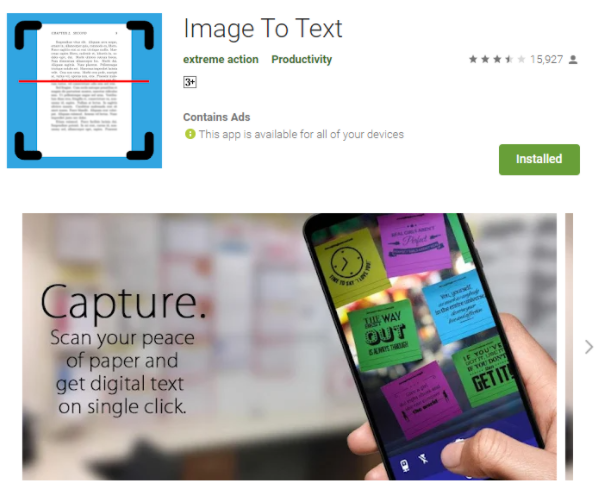 This app extract your text from image to text file effortlessly as well as errorless.
Features:
Copying from the clipboard is simple.
You can send your outcome file through email to anyone right away.
This app is user-friendly.
This app analyse text on an image precisely and convert it into a text file.
OCR text Scanner: Image to text converter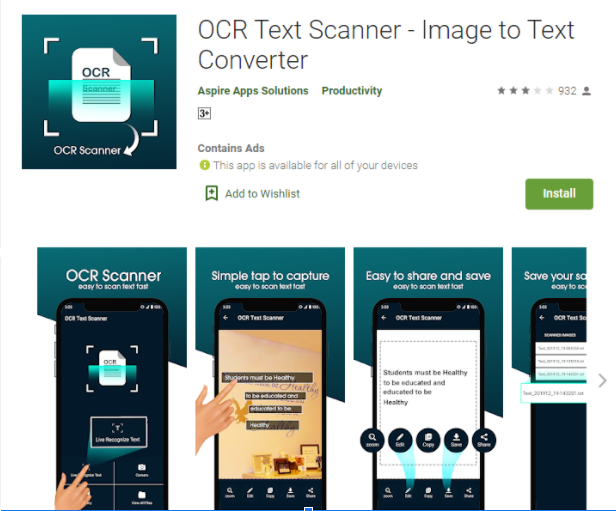 Let's discuss another outstanding image-to-text converter.
Features:
Text Extraction from Image.
Before performing OCR, crop and improve the image.
Edit and distribute the OCR output.
Keeps history of scans.
Make text copy to clipboard
Retrieves phone number, email address, and website URL.
Scan images in bulk for text.
Image to text & Translator (OCR)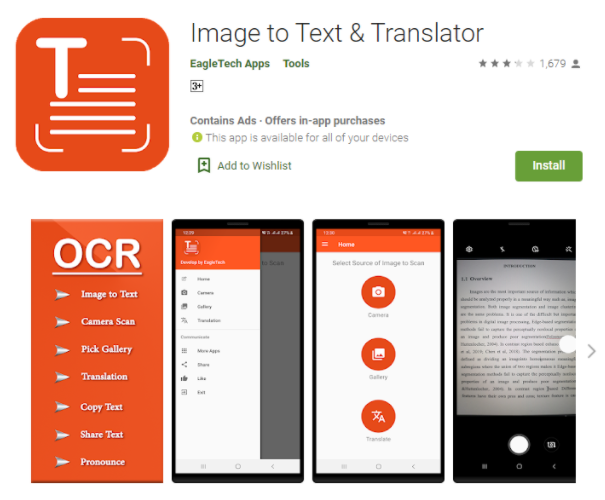 Features:
The most accurate reading in the world.
You can upload photos from your gallery
Can extract text of 50+ languages
Handwriting extractor is also present.
It is possible to perform the following operation on recognized text.
Crop and enhance image quality
Highest speed reading  
Also Read: 7 Free Mobile Apps That Help You Learn Almost Anything
& Top Mobile Tech Trends to Watch out for in 2021
Get Premium Content For Free
Just put your email to get exclusive content!