How to become a Poshmark Virtual Assistant in 2022
Poshmark is a leading marketplace where users can sell and buy new and used items. As this platform is growing there's a need for a Poshmark virtual assistant as well.
Reason:
Lots of Poshmark sellers don't manage and settle their closets alone! They use virtual assistants for maintaining their closets.
In this article, we'll explain how to become a Poshmark Virtual Assistant. We'll also explain other stuff you need to know if you want to be a good VA of Poshmark.
Why Poshmark VA?
Becoming a Poshmark virtual assistant has many advantages that no one can even imagine. It is because of its growth in the last few months.
Let's take a look at "Poshmark" on searches over all time: (increasing every month)
Remember these are just the searches for "Poshmark" while direct site visitors and app users are not included here.
This site has had an average visit of more than 50 Million in the last year. You can view the latest report here. 93% of the total visitors are from the United States which means a better scope to be a Poshmark Virtual Assistant all over the world.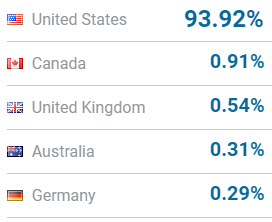 So, if you want to be a VA it will be best for you to learn Poshmark because it has less competition. You can also find work effortless.
What does Poshmark VA do?
Poshmark virtual assistants (VAs) provides a support service to a business or individual for Poshmark from a remote location. Specifically, Poshmark VAs helps their clients in settling up their closets.
Roadmap for you to become a Poshmark Virtual Assistant :
So if you want to become a Poshmark remote assistant you need to build up your Poshmark expertise. You can get enrolled in a Poshmark course and explore the platform as much as you can.
Being a virtual assistant is no more difficult, you can easily learn a skill from home. There are lots of courses available on the internet.
The main thing you need to learn as a Poshmark Virtual Assistant is to manage and build closets. We have summarized some of the key points you need to know as a Poshmark VA that are:
Reselling.
Making more money.
Listing products.
Selling products online.
Drip shipping.
Listing the right items.
Trending products.
Maximizing profits.
Automating & scaling the business.
And much more!
If you want to learn Poshmark for free you'll find free courses on YouTube moreover if you want to go for a paid one you can find one on Udemy. Here are some recommended Udemy courses:
How to become a good Poshmark Virtual Assistant?
If you want to be a good Poshmark virtual assistant you need to expand your expertise as much as you can, so you can meet the clients' needs whatever they are!
A good Poshmark closet assistant always remains focused on his work and expands his skill set so even if you are generating good income you need to expand your expertise. If you get enrolled in one course, don't be limited to that only. With the passage of time, you need to grow. That's how you can be a good virtual assistant.
This is how you'll keep on getting new work even if the competition increase thus, no one will be able to stop you from being a good Poshmark virtual assistant.
How to find Jobs as Poshmark VA?
There are a lot of platforms that provide you an opportunity to find job-related to Poshmark. The biggest of them is Linkedin and Facebook you can easily find and apply for jobs there.
You can also try Flexjobs, Indeed, Glassdoor etc like platforms to find Poshmark jobs.
But the best platforms can be Fiverr, Upwork, Freelancer-like platforms. These platforms provide you the best opportunity to work from home and make your living.
If you want to explore these platforms in detail you can read our blog post on the best freelance website for beginners.
As we know the good thing is that there is less competition on Poshmark jobs so you can easily rank on Fiverr-like platforms where you create gigs. You can easily rank your gigs on Fiverr by following all the tricks mentioned in our previous blog.
How much you can earn as a Poshmark Virtual Assistant?
Your salary or income as a Poshmark virtual assistant depends on the type of work and cost of living in the area moreover it also depends on your skill, communication, and experience.
If you live in a country where the cost of living is less, so you may have less salary as well. As a full-time Poshmark virtual assistant (40 hours a week) you can expect more than $150 per month.
But if you live in an area where the cost of living is high for example, US you can maybe earn up to $700.
How to hire a Poshmark VA?
Poshmark VAs are in high demand. Fiverr, Upwork, and other freelancing sites can be good places to look for a VA. Sellers on Fiverr are really affordable for everyone so if you decide to hire someone on Fiverr, make sure you're hiring someone who has a portfolio of Poshmark listings they've worked on.
Here are a few sellers who provide Poshmark services on Fiverr you can explore them and find the best according to your need.
Also Read: Message Someone on Poshmark
If you have any query please comment and don't forget to subscribe to our newsletter.
Get Premium Content For Free
Just put your email to get exclusive content!