BEST Things To Sell On eBay For Profit in 2022
It's no secret that eBay is one of the most popular sites on the web, and thousands of people make a lot of money selling on the site each day. Our guide will tell you about the best things to sell on eBay for a profit.
The advantage of this auction site is that it is well known in many countries, so you can reach a large international audience.
You will find everything you need to know to become a successful eBay-preneur below.
Factors to consider when selling on eBay in 2022
eBay allows you to sell almost anything. You should be aware that multiple factors make an item "good to sell on eBay".
To determine if a product is suitable for selling on eBay, consider these factors:
Is the item in demand? How well does it sell?
What's the competition?
How much does it sell for?
What is its weight? (Or how much will it cost to ship?)
Are scams, dissatisfaction, or returns likely to occur?
How much will it cost you to buy?
How much profit can you make off of it?
What To Sell On eBay To Make Money
eBay sellers should focus on items with high demand and limited competition. This is because it can help them sell those items for hundreds of dollars but cost less than $20.
90%+ of the time, a "good" item to sell on eBay is one that you can purchase cheaply.
Trending Products to Sell on eBay
A great way to discover what's hot in the marketplace is to browse eBay. You can view this page to see what's trending on eBay.
A great resource for researching seasonal trends and historical data is Google Trends. In addition, it allows you to determine the best time to list and sell your product based on consumer demand.
Consider the case of a business that sells snowboards and snowboard accessories. If you search for "snowboard" on Google Trends, you'll see a spike in web search volume from late November through early December.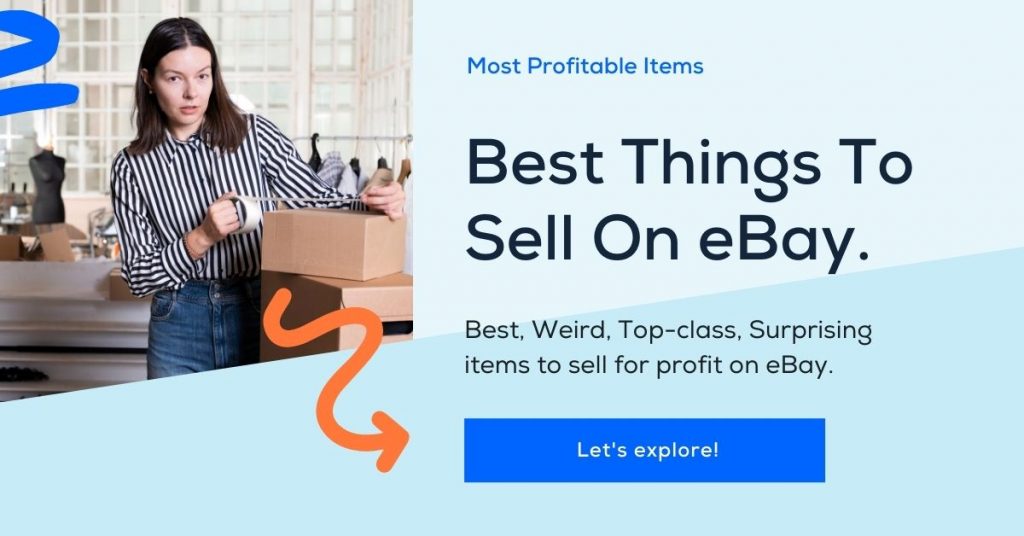 23 Best Things To Sell On eBay (Most Profitable Items in 2022)
Now let's take at some of the best things to sell on eBay for profit in 2022. These are also some of the most profitable items you can sell on eBay.
Musical Instruments
Textbooks
Dresses
Cameras and their gears
Video Games
Old-School Gadgets & Games
Baby Gear
Craft Supplies
Furniture
Collectibles
Cars & Vans
Electronics
Health and Beauty
Home and Garden
Computers and Tablets
Crafts
Clothing, Shoes & Accessories
Automotive parts
Sports gear
Jewelry & Watches
Collectables and vintage items
Toys
Books
18 Surprising Things That Sell on eBay (Weird Things 2022)
A lot of things sell well on eBay that you cannot imagine. I cannot guarantee that everyone will have success with these items. Profitability will be determined by your specific situation and the market conditions.
To find out the current price of any of these products or ideas, review past eBay listings. Don't forget that past successes may not always translate into future success.
These are some of the easiest things to sell on eBay as well.
Old video games
Mp3 players
Lego
Antiques
Vintage Clothing
In the 1980s and 1990s Toys
Old Puzzles
Anything Sony, Disney, Apple, etc
High-quality Old Luggage
Walkie Talkies
Pocket Dictionaries
Old Camera
Vintage Headphones
Car Parts
TV Remote Controls
Video Game Controllers (Current Gaming Consoles)
Cake Pans (Clean, Vintage Style, or Wilton Brand)
Voice Recorders/Tape Recorders
Examples of Item That Sells on eBay
Macklemore Thrift Store Jacket
Red Bull Cola
Packers Monopoly
Hair Curlers
Ugly Sweaters
Regular Sweater
Special-Edition Lay's Potato Chips
EBAY VS AMAZON – WHICH IS BETTER in 2022?
Amazon and eBay are great marketplaces for selling but the one that is most suitable for you depends on your goals.
eBay is the best place to sell secondhand items.
eBay's unique selling point is that you can auction items that help you in making very large profits so, if you sell rare and collectible items.
If you are selling new products, Amazon is the way to go.
There is no doubt that Amazon is the largest retailer in the United States, as it also offers Amazon FBA (fulfilled by Amazon). Amazon FBA allows you to create a hands-free retail business with the assistance of Amazon.
12 Best Selling Categories on eBay
These are one of the Top-level categories, and most popular categories and subcategories on eBay.
Consumer electronics
Health and Beauty
Home and Garden
Computers and Tablets
Crafts
Clothing, Shoes & Accessories
Automotive
Sporting goods
Jewelry & Watches
Collectables
Pet Supplies
Baby
You can sell almost anything on eBay in 2022 if you take this list into account. Most of the best things to sell on eBay for profit lies in these categories.
Every top-level category has many subcategories, and within them are specific products. You can find every category and subcategory on eBay here.
The demand for technology includes computer accessories (chargers, add-ons, etc), sporting goods, and memorabilia.
The most popular items are sometimes those from closed stores or discontinued lines.
It has been years since Gymboree closed its doors, but people love searching for specific clothes from this most popular collection.
How To Find & Buy Things To Sell On eBay
To find products to sell, you can use four main sourcing techniques:
Flipping
Arbitrage
Wholesale
Private Label
Flipping & Arbitrage
Arbitrage and flipping are very similar. In flipping, you are buying and selling used items. Retail arbitrage involves buying new items from your local brick-and-mortar store. In online arbitrage, one buys items from other sites online and sells them on eBay (or anywhere else where they are most profitable).
The most common route for new sellers is to start with flipping and retail arbitrage. You can sell the new products on Amazon via FBA, and everything else on eBay, Facebook Marketplace, and Craigslist.
Wholesale
As a wholesaler, you work directly with manufacturers and distributors but you should wait until you have more experience to invest in before trying wholesale.
Private Label
A private label is a brand and product created and manufactured under your brand name. But this is the riskiest sourcing strategy.
There are many tools and courses which promise to make private labeling easy but we believe you are more likely to succeed if you begin with flipping and arbitrage and work your way up to these more complex strategies.
By starting with flipping and arbitrage, you will be able to find the best things for eBay sales and make a profit.
Flipping used items on eBay might be a good idea if you find products to sell in the following places:
Your own house
Thrift stores
Garage and yard sales
Estate sales
Auctions
Flea markets
Craigslist
Facebook Marketplace
On the Street (Discarded Items)
Friends and Family
Tips For Selling Items On eBay in 2022
Here are a few tips you can follow while selling on eBay:
Deliver your orders on time.
Respond to customer inquiries promptly.
Make sure you adhere to eBay's return policy.
High-quality photography.
The fast and low-cost shipping
Offer free returns
You will have to pay more for shipping bulky inexpensive items so try finding lightweight items. As they perform best. Shipping and handling may be able to be charged but free shipping always sells better.
For example:
$10 price+ $10 shipping
$15 price +$5 shipping
$20 price+ Free Shipping
For most eBay buyers, $20 plus free shipping is the most attractive pricing option.
eBay can be a fun way to make extra money, and it can even become a full-time income with some dedication and research.
Final Thoughts On The Best Things To Sell On eBay For A Profit
If you want to maximize your eCommerce store's potential on eBay in 2022, you must do the research, put in the work, and be patient.
eBay offers diversity as compared to other platforms. So, eBay is something else entirely. It allows sellers to sell items that are not available anywhere else.
You can easily make money on eBay in 2022 if you have the right niche and price. However, it won't make you rich overnight.
eBay: Is it right for you?
Also Read: How to Make Money on eBay (Without Selling Anything).
One of the best ways to start a business is through Shopify because it's easy to set up. In fact, there's no upfront cost, and setup is quick.
Runns Webshop is a great place to buy toys – they have many different kinds of cool products like Lego and Playmobil sets.
Get Premium Content For Free
Just put your email to get exclusive content!