Facebook rating dropped from 4.0 to 2.4 on Playstore but why?
Different people have been using Facebook for different reasons. Some use it for fame, some for business and some to share their opinions with the world. The app provided freedom of speech for years. Let explore why Facebook's rating dropped from 4.0 to 2.4 only.
Recently, Facebook's rating dropped from 4.0 to 2.4 on Google Playstore. Users usually from the regions of Asia and the Middle East have reported this platform with only '1 star' on Playstore.
Facebook promotes the content posted by the west but deletes content that doesn't align with western beliefs, portraying a clear inequality, based on user feedback.
Learn to make money as a virtual assistant.
It is because of this act that users from different regions decided to give only one star to this platform, indicating its poor performance as well as showing how unsatisfied users are with its services.
A lot of people use Facebook for networking. App offers simplicity and freedom of expression, however, recently these things seem to be going the opposite way. The app does not seem to be supporting freedom of expression and voicing an opinion, at least for the people of South Asia, the Middle East, and Arab countries.
There are over 5,000,000,000+ installs and 115,641,000 reviews in the app store. The huge number indicates a rating of 2.4, as people give only 1 star on different social media forums, citing unfair justice and clear inequality.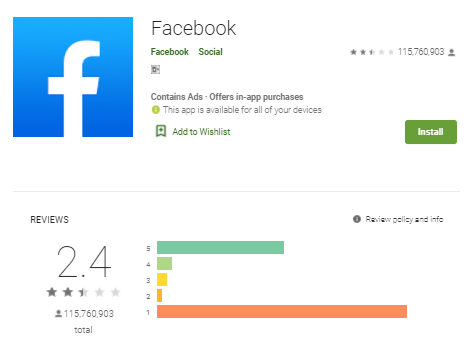 Reportedly, several accounts have been banned permanently for criticizing Israeli military aggression against Palestinians.
There are Muslims all over the world sharing support for Palestine. There accounts have been flagged due to unknown reasons. It appears to be a pattern not only on Facebook but also on Instagram, a Facebook-owned company.
1-star rating on the play store shows that the users of Facebook are unhappy as they don't have any right to freedom of speech.
Learn to make money on snack video.
Get Premium Content For Free
Just put your email to get exclusive content!